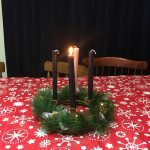 The beginning of Advent is the beginning of the Church Year!  So Happy New Year as well!
We started our Jesse Tree a few days early this year, being that the 4th week of Advent is so short.  I 've learned that the children in the home don't do so well with doing 7 bible stories and coloring 7 ornaments in 2 days.  This way once we get to the 4th week of Advent we should be at about the right place to finish up on time.  On Christmas Eve our Jesse Tree becomes a second Christmas Tree.
The 1st Reading and Gospel for Today:
Reading 1
Jer 33:14-16
The days are coming, says the LORD, when I will fulfill the promise I made to the house of Israel and Judah.
In those days, in that time,
I will raise up for David a just shoot ; he shall do what is right and just in the land.
In those days Judah shall be safe and Jerusalem shall dwell secure; this is what they shall call her:
"The LORD our justice."
Gospel
Lk 21:25-28, 34-36
Jesus said to his disciples:
"There will be signs in the sun, the moon, and the stars, and on earth nations will be in dismay, perplexed by the roaring of the sea and the waves.
People will die of fright in anticipation of what is coming upon the world, for the powers of the heavens will be shaken.
And then they will see the Son of Man coming in a cloud with power and great glory.
But when these signs begin to happen, stand erect and raise your heads because your redemption is at hand.
"Beware that your hearts do not become drowsy from carousing and drunkenness
and the anxieties of daily life, and that day catch you by surprise like a trap.
For that day will assault everyone who lives on the face of the earth.
Be vigilant at all times and pray that you have the strength
to escape the tribulations that are imminent and to stand before the Son of Man."
Some Saints this week:
St. Francis Xavier, St. John Damascene, St. Peter Chrysologus, St. Nicholas, The Immaculate Conception!  We have already watched the DVD on St. Nicholas and will put up stockings for Dec. 6th rather than shoes.