Welcome to the 4th Sunday of Easter; also known as Good Shepherd Sunday and Vocations Sunday!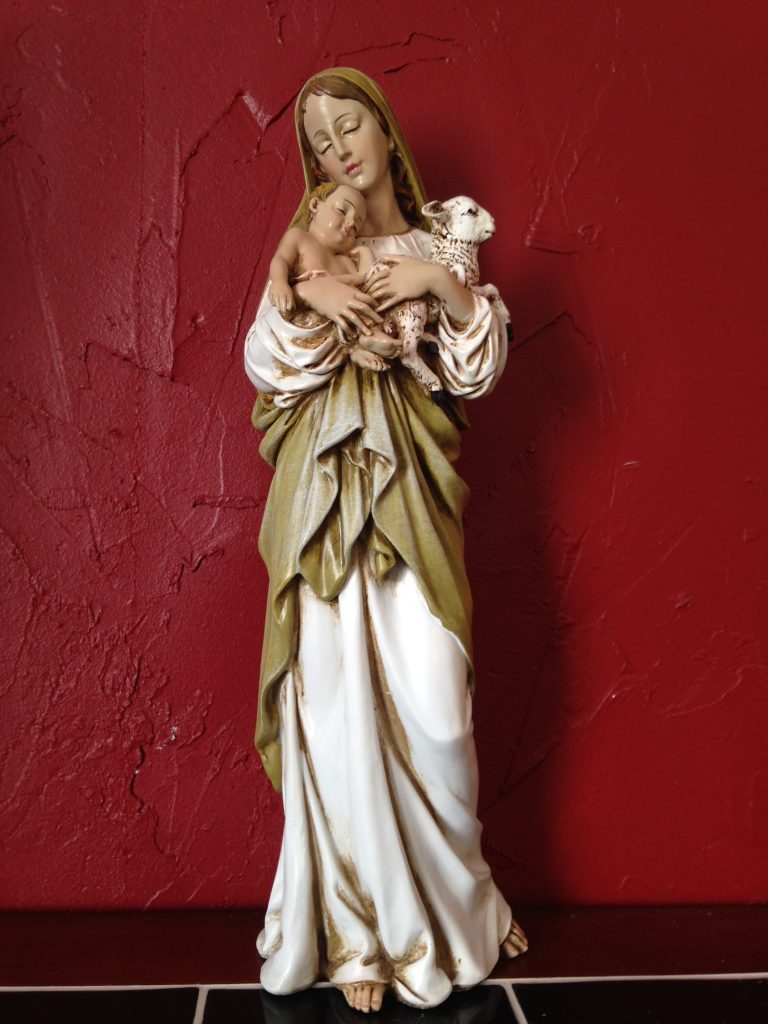 We are staying healthy and I pray everyone else is as well! Prayers for those who are sick! Some diocese are starting to reopen for Mass. Please follow the guidelines of your Bishop in regards to attending Mass, if Mass is now available in your area, or waiting to reopen churches. We will continue to attend Mass online until the parishes in our city open!
The Gospel for today:
Jesus said:
"Amen, amen, I say to you,
whoever does not enter a sheepfold through the gate
but climbs over elsewhere is a thief and a robber.
But whoever enters through the gate is the shepherd of the sheep.
The gatekeeper opens it for him, and the sheep hear his voice, as the shepherd calls his own sheep by name and leads them out.
When he has driven out all his own,
he walks ahead of them, and the sheep follow him, because they recognize his voice.
But they will not follow a stranger;
they will run away from him, because they do not recognize the voice of strangers."
Although Jesus used this figure of speech,
the Pharisees did not realize what he was trying to tell them.
So Jesus said again, "Amen, amen, I say to you,
I am the gate for the sheep.
All who came before me are thieves and robbers, but the sheep did not listen to them.
I am the gate.
Whoever enters through me will be saved, and will come in and go out and find pasture.
A thief comes only to steal and slaughter and destroy;
I came so that they might have life and have it more abundantly."
The Word of the Lord! Thanks be to God!
Who is the Good Shepherd: Jesus
Who are the sheep: us
Jesus knows the name of each one of us, even if we don't know Him. He calls us by name, and when we recognize His voice we follow Him. We must learn to recognize and listen to the voice of Jesus the Good Shepherd. In our life we must discern if the voice is from Jesus, our own wounded nature or the evil one. We work on learning to recognize the voice of the Shepherd and to follow Him. Some of the ways we learn to recognize the voice of the Shepherd is by reading Scripture, spending time in prayer, both traditional and from the heart to build relationship with Him. One gets to know someone by spending time with them.
Sometimes we hear the voice of the Shepherd and have to be willing to follow His. I know with my vocation, I have felt from 2nd grade that Jesus is calling me to Consecrated Life and from High School to care for children in need. As I went through high school and into college I also felt God was calling me to start a community to care for children in need. This was the part that was hard for me, I wanted to care for children in need in a community already there. I entered a community, went through formation and took 1st Vows. In time I knew I was called to come out and "take care of God's children". This is a calling within a calling because the children obviously live with me, and one day as, God willing, we receive vocations, we will be able to serve more children in need in a wider variety of ways! At this time I make private vows on July 16th. My mom also lives with me and the children as a Consecrated Widow. So there are 2 of us living Consecrated Life in the care of the children.
Be brave, take the leap, and follow the voice of Jesus the Good Shepherd in the vocation He is calling you too!
The Psalm for today is the 23rd Psalm, one of my favorites:
The LORD is my shepherd;* there is nothing I lack.a
2In green pastures he makes me lie down; to still waters he leads me;
3bhe restores my soul.
He guides me along right paths* for the sake of his name.
4Even though I walk through the valley of the shadow of death,c
I will fear no evil, for you are with me; your rod and your staff comfort me.
II
5*You set a table before me in front of my enemies;*
You anoint my head with oil;*d my cup overflows.e
6Indeed, goodness and mercy* will pursue me all the days of my life;
I will dwell in the house of the LORDf for endless days.
I notice the Psalm says There is nothing I shall want! I think sometimes in today's world we confuse "wants" and "needs". We tend to make sure we have our wants, but then we don't have our needs. I am speaking both spiritually and physically.
Have a great week!