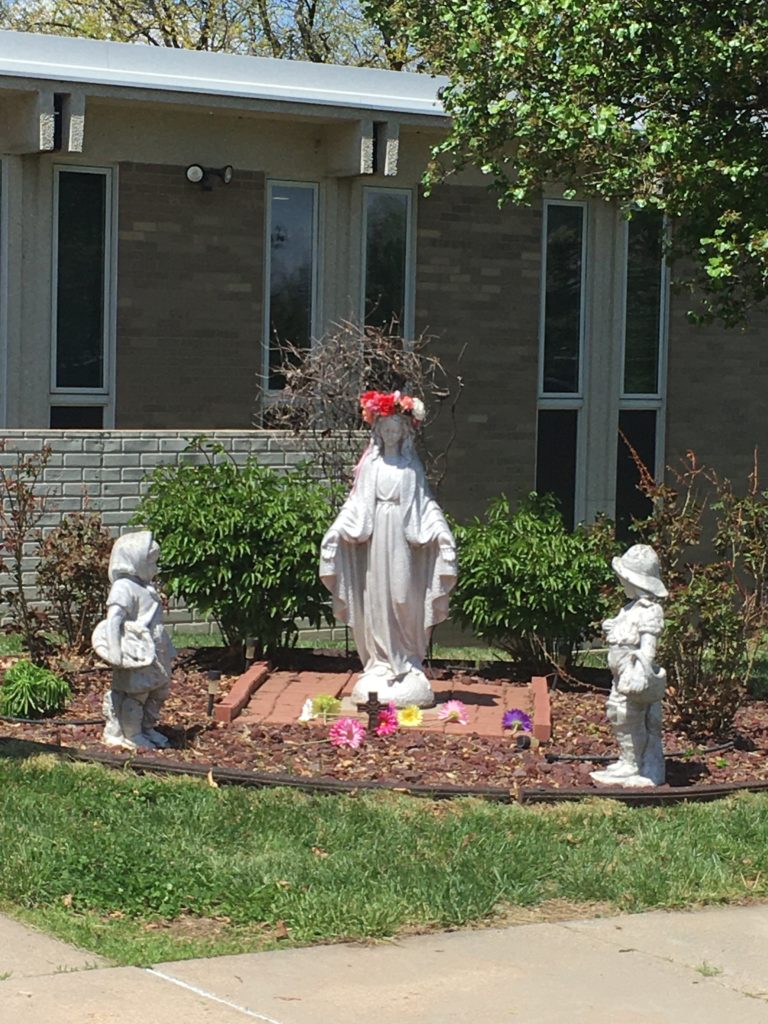 Today is the 5th Sunday of Easter! It is also Mother's Day in the United States!
The 1st Reading for today is:
As the number of disciples continued to grow, the Hellenists complained against the Hebrews
because their widows were being neglected in the daily distribution.
So the Twelve called together the community of the disciples and said,
"It is not right for us to neglect the word of God to serve at table.
Brothers, select from among you seven reputable men, filled with the Spirit and wisdom,
whom we shall appoint to this task, whereas we shall devote ourselves to prayer
and to the ministry of the word."
The proposal was acceptable to the whole community,
so they chose Stephen, a man filled with faith and the Holy Spirit,
also Philip, Prochorus, Nicanor, Timon, Parmenas,
and Nicholas of Antioch, a convert to Judaism.
They presented these men to the apostles who prayed and laid hands on them.
The word of God continued to spread,
and the number of the disciples in Jerusalem increased greatly;
even a large group of priests were becoming obedient to the faith.
The Word of the Lord! Thanks be to God!
I chose this today, even though I like the Gospel too, because it speaks of Deacons. I believe Deacons are vital to Church life so the priest can do the ministries of the priest. When I was growing up in Florida at St. Elizabeth of Hungary Church, we had 3 deacons! We were a small parish, 50 families, and the main parish had 150 families. There was plenty of "work", ministry for 3 deacons and 1 priest. This reading shows that Deacons also have a roll in the Church and are of great help to the priest. This is something I saw personally during my growing up years at St. Jude and St. Elizabeth churches, and it made an impression on me.
In the Gospel we are reminded that Jesus is going to prepare a place for us in Heaven our true and final home! While we are journeying there we do the work of the Father here on earth.
And on Mother's Day: I pray all of you had a Happy and Blessed Mother's Day! There are all kinds of Mothers. Physical motherhood and spiritual Motherhood. Physical mothers raise children in person, whether she bore them or not. Even some of us in Consecrated Life raise children who need a safe home to grow up in. We are all called to be spiritual mother's as well, sometimes to our own children, sometimes to people God places in our lives and sometimes to people we have never met and will meet one day in Heaven. The Mother is the heart of the home; the person who nurtures and prays for and educates.
Mary is our Mother also. How do I know this? In the Gospel of Luke (Chapter's 1 & 2) it says that Mary is the mother of Jesus, He who is God's Son; the second person of the Blessed Trinity. If Jesus is our Brother and God is our Father, then we have a Mother, too, Mary.
A selection from the Litany of Mary:
Holy Mary, pray for us.
Holy Mother of God, pray for us.
Holy Virgin of virgins, pray for us.
Mother of Christ, pray for us.
Mother of divine grace, pray for us.
Mother most pure, pray for us.
Mother most chaste, pray for us.
Mother inviolate, pray for us.
Mother undefiled, pray for us.
Mother most amiable, pray for us.
Mother most admirable, pray for us.
Mother of good counsel, pray for us.
Mother of our Creator, pray for us.
Mother of our Savior, pray for us.
I like how some schools are doing "drive through" May crowning! Villa Marie Home and School for Exceptional Children had one this past Tuesday. As you can see from the flowers in front of Mary, some students had already been there. It was a nice way for the children who live in The Family of the Good Shepherd to join in!
Then I have one in the home who enjoys gymnastics and really hopes to compete one day.
Praying you all have a Blessed week!