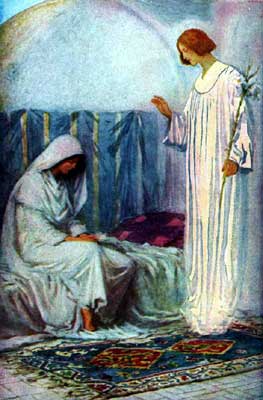 In the sixth month, the angel Gabriel was sent from God to a town of Galilee called Nazareth,27to a virgin betrothed to a man named Joseph, of the house of David, and the virgin's name was Mary.l28And coming to her, he said, "Hail, favored one! The Lord is with you."m29But she was greatly troubled at what was said and pondered what sort of greeting this might be.30Then the angel said to her, "Do not be afraid, Mary, for you have found favor with God.31n Behold, you will conceive in your womb and bear a son, and you shall name him Jesus.32o He will be great and will be called Son of the Most High,* and the Lord God will give him the throne of David his father,33and he will rule over the house of Jacob forever, and of his kingdom there will be no end."
But Mary said to the angel, "How can this be, since I have no relations with a man?"*35And the angel said to her in reply, "The holy Spirit will come upon you, and the power of the Most High will overshadow you. Therefore the child to be born will be called holy, the Son of God.q36And behold, Elizabeth, your relative, has also conceived* a son in her old age, and this is the sixth month for her who was called barren;37for nothing will be impossible for God."r38Mary said, "Behold, I am the handmaid of the Lord. May it be done to me according to your word." Then the angel departed from her. Luke 1:26-38
What was Mary's response to the Angel? It was "Yes" She said "Yes" to God's plan for her and for us! She sets the example of saying "Yes" to what God asks of us as well!
What does God ask of us? He asks us to "Follow Him". How do we do this? By following the 10 Commandments set out for us. To live the Beatitudes. To receive the sacraments, especially the sacraments of Reconciliation and Holy Communion. All the sacraments, give us the life and grace God has for us to say "Yes" to His will in our life! The frequent and devote reception of Reconciliation and Holy Communion keep the the graces flowing though us!
Mary said "Yes" because she had a relationship with God. He wasn't just someone, something out there, whom she had heard about. He is real and through the reading of Scripture and prayer she built a relationship with Him before the Angel appeared to her.
We too need to begin or continue to build our relationship with the Lord! Take some time with Our Lord and Our Blessed Mother today and every day!
May God Bless you as we speed toward Palm Sunday, Holy Week, Triduum and Easter!