Hello and welcome to Holy Week, the Holiest week of the year!
Today started with Palm Sunday. The day we celebrate Jesus' entry into Jerusalem and being greeted by children and people waving palm branches and calling Hosanna to the King of Kings! We end with the Triduum. (Tri meaning three). At the end of the week we have Holy Thursday, Good Friday and Holy Saturday. (This year our diocese is not having the Holy Saturday Mass live.
The Gospel at the beginning of Mass today was:
At the procession with palms – Gospel 35 Year A
When Jesus and the disciples drew near Jerusalem and came to Bethphage on the Mount of Olives,
Jesus sent two disciples, saying to them,
"Go into the village opposite you, and immediately you will find an ass tethered, and a colt with her.
Untie them and bring them here to me.
And if anyone should say anything to you, reply,
'The master has need of them.'
Then he will send them at once."
This happened so that what had been spoken through the prophet might be fulfilled:
Say to daughter Zion,
"Behold, your king comes to you,
meek and riding on an ass,
and on a colt, the foal of a beast of burden."
The disciples went and did as Jesus had ordered them.
They brought the ass and the colt and laid their cloaks over them, and he sat upon them.
The very large crowd spread their cloaks on the road,
while others cut branches from the trees and strewed them on the road.
The crowds preceding him and those following kept crying out and saying:
"Hosanna to the Son of David; blessed is the he who comes in the name of the Lord;
hosanna in the highest."
And when he entered Jerusalem
the whole city was shaken and asked, "Who is this?"
And the crowds replied,
"This is Jesus the prophet, from Nazareth in Galilee."
The Gospel of the Lord! Praise to You Lord Jesus Christ!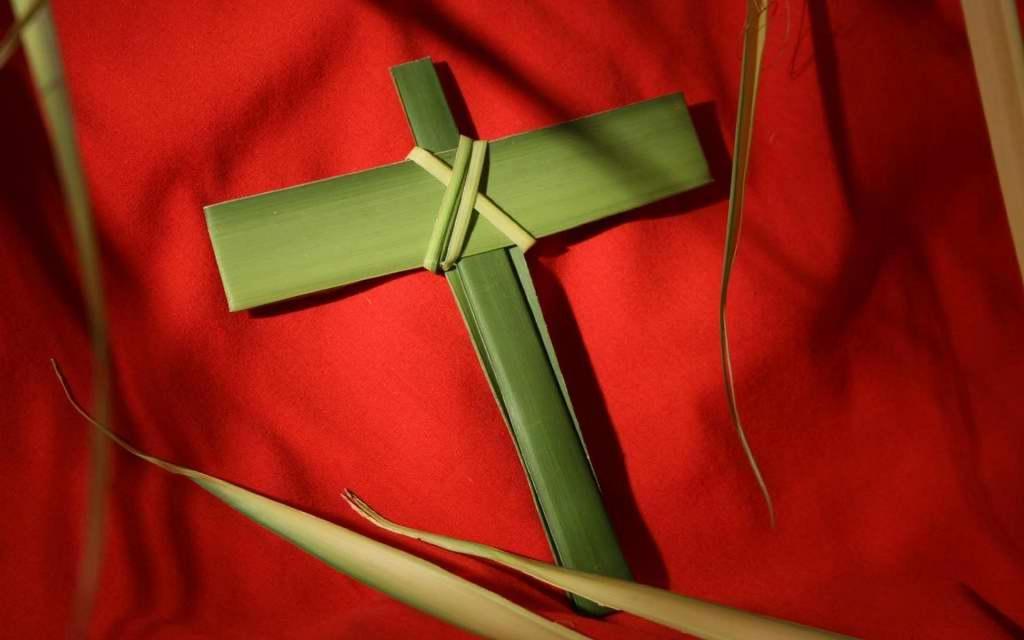 Of course the main Gospel for today is the long gospel that starts with the Last Supper and end with Jesus dying on the cross and that is written up into parts. There is even parts for us to say. Even as a child I was always moved by this gospel, especially the part where we are calling for Him to be crucified. Partly because I felt like I was there part of the crowd yelling. That is one of the reasons it is written that way to draw us in and join in the Passion of Christ. For some that might seem scary, but what is after the death and burial…The Resurrection!! Jesus calls us to follow Him. That is also why we pray the stations of the cross. To enter in and follow our Lord.
As the week goes by I will post here the Gospel for Holy Thursday and Good Friday!
This is a very different Holy Week for me! As a young person from the age of 10 years, I sang in the church choir, so of course the Triduum was part of that. As a teen I was the Organist at church, all of which helped the Liturgy come alive! This year is different. Due to the COVID 19 we are all on quarantine. Schools and churches are closed. I am very thankful for the internet and being able to participate online. It was a beautiful Mass, but different with seeing an empty church and not personally be in the church. Yet this is not the 1st time. In 1918 during the Spanish Flu, schools and churches were closed as is today. They survived and life continued. OK, not all survived, but people did. Surly we have better medical technology today to help people who are sick with this. Of course prayer is a big key!
Of course with school officially closed, God can be back in the classroom! Schooling at home can be really hard for some, especially if they are working from home at the same time or the parents are special needs themselves. For some families this is the 1st time they have ever been home with their kids all day every day! While this is not a good thing for some people, others have taken the time to spend time with their kids for a change. There is a slower pace, we are not rushing from one thing to another. We have time to talk, listen, read, play games, etc. May, I say I understand that some parents were working hard to provide a basic living for their family, it wasn't that they didn't want to spend time with their kids. And for some families this time means there is no job and no income, which is stressful.
I pray for all of you that you are able to take this time and enter into Holy Week with your family! For those of you without a job at this time I pray that you are able to find the resources to have your basic needs met. For those of you out there working among those who may have the COVID 19 I pray for your health as well!
May you have a Blessed and Holy Holy Week!