Today we celebrated the Feast of the Triumph of the Cross!
Reading 2
Phil 2:6-11
Brothers and sisters:
Christ Jesus, though he was in the form of God, did not regard equality with God something to be grasped.
Rather, he emptied himself, taking the form of a slave,
coming in human likeness; and found human in appearance,
he humbled himself, becoming obedient to death, even death on a cross.
Because of this, God greatly exalted him and bestowed on him the name
that is above every name, that at the name of Jesus
every knee should bend, of those in heaven and on earth and under the earth,
and every tongue confess that Jesus Christ is Lord,
to the glory of God the Father.
The Word of the Lord!  Thanks be to God!
Whenever we make the sign of the Cross over ourselves it is like making a big invisible shield to protect us!  Jesus also tells us in Scripture to "take up our cross and follow Him"  where to?  To victory and one day to Heaven!
Ever notice that the Feast of the Triumph of the Cross is surrounded by Marian Feast days?!  Sept. 8 Birthday of Mary, Sept. 12 Holy Name of Mary and Sept. 15 Our Lady of Sorrows!  Our Mother is trying to tell us that her triumph is in the Cross of her Son, Our Lord Jesus Christ!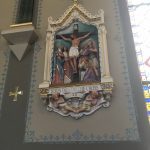 Have a Blessed Weekend!
Sister Catherine Nagl